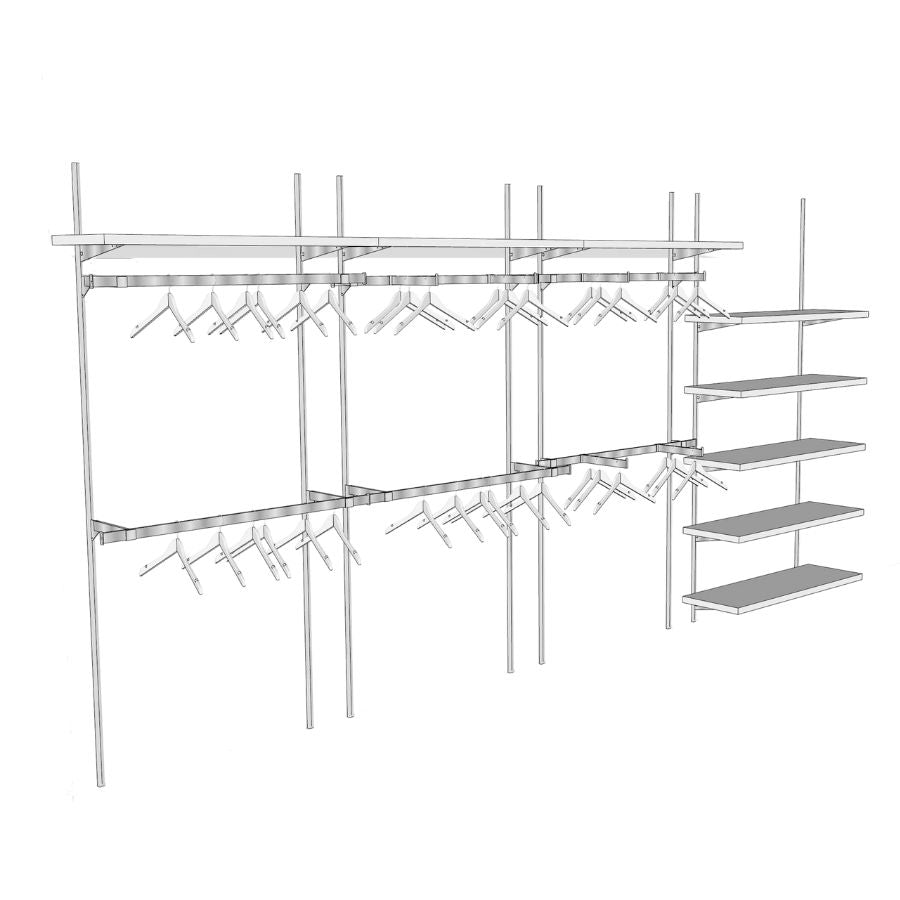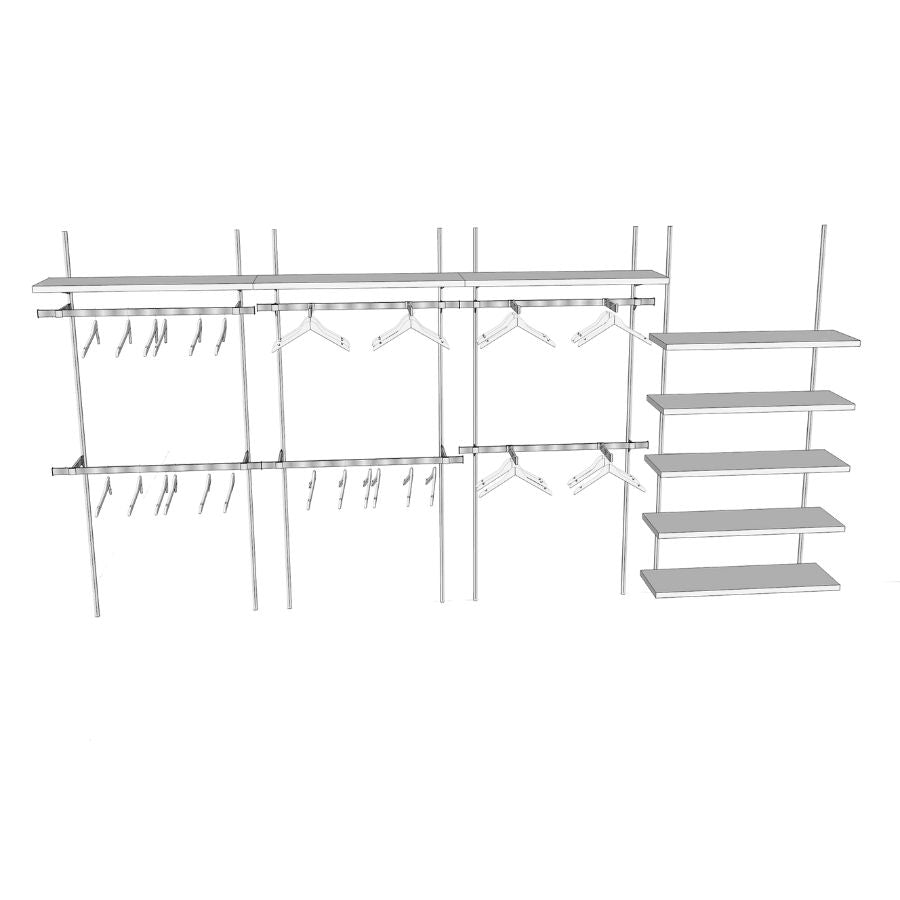 Wall Mounted Clothing Rack With Hanging Bar And Shelves
Wall-mounted clothes racks may free up significant floor space in your business. This can aid in creating a more open and less cluttered shopping environment, resulting in a better overall shopping experience for customers.

Better organization: Wall-mounted racks can help you better organize your items. You can keep your business appealing and organized by employing different types of racks for different things, making it more straightforward for consumers to find what they're searching for.

Improved visibility: Because wall-mounted racks may be set at eye level or higher, they are more visible to consumers. This might direct attention to certain goods or parts of your shop, increasing sales and revenue.

Flexibility: available in various sizes and styles, making them a versatile solution for any shop. They can showcase apparel, accessories, miniature jewelry, or purses.

Cost-effectiveness: Wall-mounted racks are frequently less costly than retail fixtures such as floor racks or shelving units. As a result, they can be a low-cost choice for small enterprises or retailers with restricted finances.
See What Our Customers Say
Don't let what we say influence you, take it from our customers!
"The display stand is really high quality and delivery on time is more appreciated, we think the excellent supplier should supply superior service and take positive attitude like you do."
Pamela Duncan
Grocery Brand
"Beate has been super helpful and understanding to my inquiries, she matched my budget and gave me just what I need. They also shipped on time, everything came in perfect shape before the opening of my store. Highly recommended."
Jeniffer Smith
Healthcare company
"After years of cooperation, we have become a family. I hope Mr Tim can get better and better and life is getting happier,and so do I."

"Their expertise in catering to various retail shops, supermarkets, department stores, liquor stores, bakeries, and electronic product stores is evident in the quality of their work. With their design support and solutions, they help me create the perfect store layout that maximizes space utilization and improves product visibility."
Juliet Noel
Convenience Store
"The display stand is really high quality and delivery on time is more appreciated, we think the excellent supplier should supply superior service and take positive attitude like you do."
COOPERATION PARTNERS
Beate is known for their expertise in merchandising and is recognized for their exceptional work by designing high quality retail fixtures and shelving solutions for top brands in the grocery, retail, and distribution sectors. Through years of efforts, the company has established a perfect management system and has the ability to integrate professional research and development, design, production, and service.
Description
For store owners, having a well-organized layout is crucial for success. One effective way to achieve this is by utilizing wall-mounted clothing racks. These racks can free up floor space, organize clothing more effectively, and even lead shoppers further into your store.
First impressions matter; an organized store can entice people to shop. Using a variety of clothing racks, including wall-mounted racks, can help keep your store looking clean and organized. These racks can display featured items while also storing different sizes and colors.
Besides organization, a well-designed store layout can guide customers and promote exploration. Using the proper combination of displays, racks, and fixtures, you can develop a layout that leads shoppers to the areas you want them to go. Garment display wall racks can create a clear path for customers to navigate your store.
Properly placed wall racks can also lead shoppers further into your store. You can draw people further by using eye-catching displays and popular items on the back wall. Wall-mounted racks are space efficient, can be placed at eye level or above, and can display clothing face out to attract customers.
Implementing wall-mounted commercial clothing racks can significantly improve your store's organization, layout, and success.