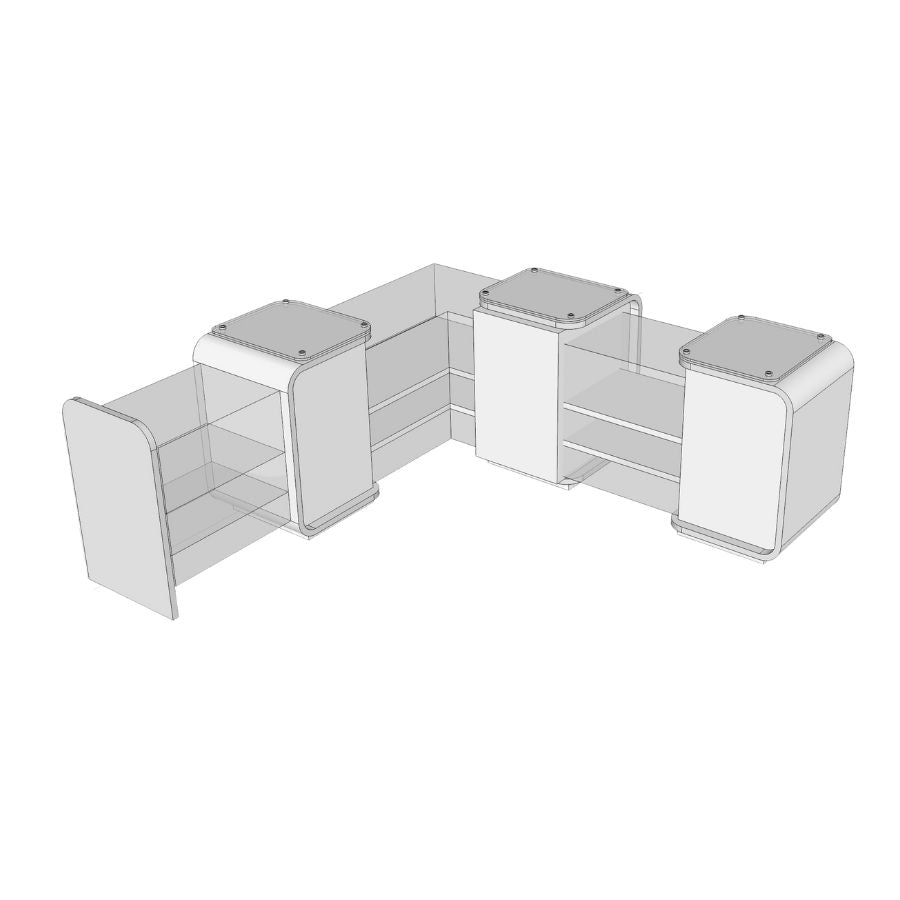 L-shaped Retail Cash Register Counters for Pharmacy Stores
L-Shaped Design: Optimize your checkout counter with an L-shaped design to maximize space and customer flow. Place the register at the corner and position display cases and shelves along the longer side. This arrangement allows for easier access to products and reduces customer navigation space.

Transparent Display Cases: Show off high-end and prescription medications with well-lit transparent display cases. Position them at eye level for easy viewing and group similar products together. Clear signage can help customers quickly find what they need.

Efficient Checkout: Use a user-friendly point-of-sale system to ensure a quick and efficient checkout process. Incorporate barcode scanners to speed up the process and reduce errors. Provide ample space for customers to place their items and ensure easy access to the payment terminal. 

Professional Look: Make a great first impression with a sleek and professional checkout counter design. Choose materials like stainless steel, tempered glass, and acrylic for a premium feel. Clean lines and a modern aesthetic will enhance the overall look.
See What Our Customers Say
Don't let what we say influence you, take it from our customers!
"The display stand is really high quality and delivery on time is more appreciated, we think the excellent supplier should supply superior service and take positive attitude like you do."
Pamela Duncan
Grocery Brand
"Beate has been super helpful and understanding to my inquiries, she matched my budget and gave me just what I need. They also shipped on time, everything came in perfect shape before the opening of my store. Highly recommended."
Jeniffer Smith
Healthcare company
"After years of cooperation, we have become a family. I hope Mr Tim can get better and better and life is getting happier,and so do I."

"Their expertise in catering to various retail shops, supermarkets, department stores, liquor stores, bakeries, and electronic product stores is evident in the quality of their work. With their design support and solutions, they help me create the perfect store layout that maximizes space utilization and improves product visibility."
Juliet Noel
Convenience Store
"The display stand is really high quality and delivery on time is more appreciated, we think the excellent supplier should supply superior service and take positive attitude like you do."
COOPERATION PARTNERS
Beate is known for their expertise in merchandising and is recognized for their exceptional work by designing high quality retail fixtures and shelving solutions for top brands in the grocery, retail, and distribution sectors. Through years of efforts, the company has established a perfect management system and has the ability to integrate professional research and development, design, production, and service.
Description
Beate L-shaped pharmacy custom checkout counters offer a range of benefits for your store. Firstly, the optimized space utilization of the L-shaped layout ensures a streamlined flow of customers during peak hours, leading to a more organized and efficient checkout process. Additionally, the ergonomic design of the counter results in shorter waiting times and a smoother transaction process, enhancing the overall customer experience and increasing satisfaction.
Moreover, the cashier counter enables your staff to work efficiently, minimizing the time spent on each transaction. The ample counter space allows for easy organization and scanning of items, processing payments, and providing personalized service, resulting in a more productive team and improved customer service.
We also offer customizable design options to match your store's unique needs and branding requirements, creating a cohesive and professional look. Finally, custom checkout counters are designed for easy installation and maintenance, with durable materials and quality craftsmanship ensuring long-lasting use.